VCHS has been staging homes for over 15 years. We know what Real Estate agents need in a trusted and knowledgeable staging company and have built countless partnerships. We know what sellers are looking for in the type of service they expect and the quality of our work. And, we know what buyers are looking for in a home that will wow them and make them want to move right in. We love making dreams come true and being part of a happy ending!
Staging a home is a great way to make an excellent first impression on a prospective buyer. Research shows that people typically make a decision to buy a home within the first two minutes. The opportunity to make a good first impression also applies to Realtors. When Realtors are impressed with a home, they get excited and want to show it to as many prospective buyers as possible. It only makes sense — Realtors are business people, too, and they can sense when a home will sell quickly and make their job easier.
We stage homes from Santa Barbara down into the San Fernando Valley. Don't let our name fool you – our reach extends well beyond just Ventura County.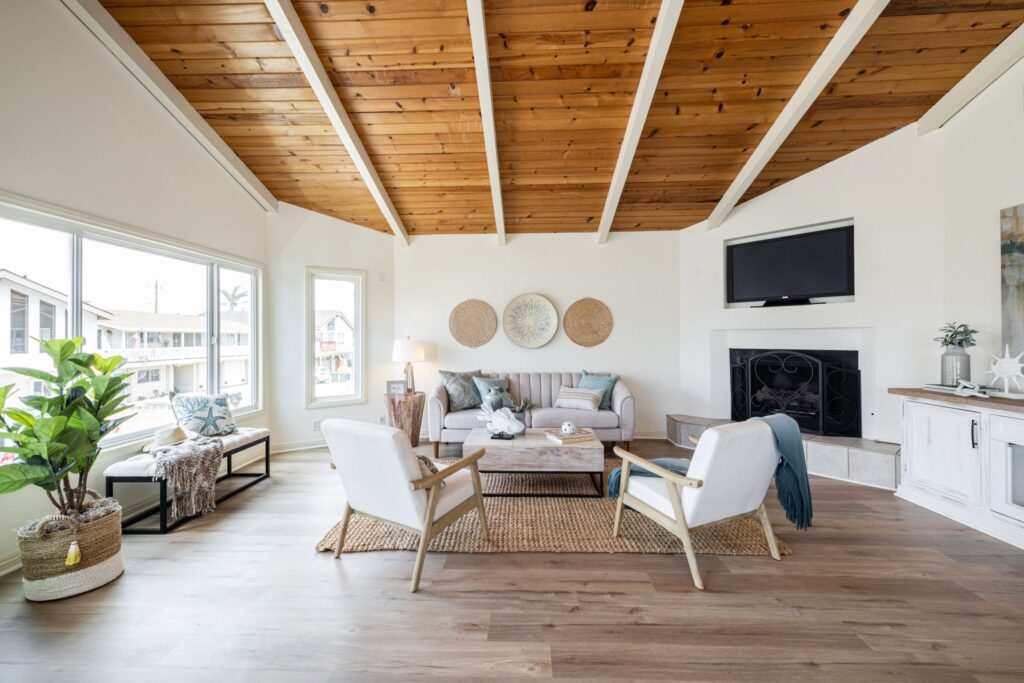 Some of our most popular areas for staging are: Newbury Park, Thousand Oaks, Westlake Village, Simi Valley, Moorpark, Ventura, Woodland Hills, Studio City, Malibu, Oak Park, Agoura, Santa Clarita, West Hills, Carpinteria, Encino, Burbank, Oxnard and Camarillo to name just a few.

How It Works
We service anyone looking to stage a home to sell or lease. We'll meet you at your property to gain a sense of the space, location demographic and what will best suit each property. As each home is truly unique, we tailor the design to ensure that your property shows well and stands out amongst the competition. We'll provide you with an estimate that clearly lists the rooms that will be staged and the types of furniture/artwork that will be used. Then we set up a date to stage your home and let the design do the magic! We have a proven track record of success. The homes we stage receive an offer within 15 days, on average. The investment you make in staging your home pays off big – you'll attract more buyers and sell faster than your unstaged competition.
We can even help you source furnishings for your existing or new home, or aid in renovations. Our background in interior design and our long-standing partnerships with trade workers is the perfect fit to help you create a loving, warm and comfortable place to live for many years.
Whether you're a homeowner, Realtor, investor or property manager, we invite you to call Ventura County Home Staging at (805) 409-4317 or contact us today! We will be happy to discuss which of our services best fits your needs.
Also, feel free to check out our Instagram page @VC_homestaging